Testimonial from the World Affairs Council of Jacksonville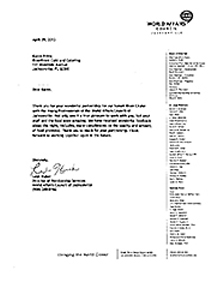 Young Professionals of the World Affairs Council of Jacksonville Event
Dear Karen,
Thank you for your wonderful partnership for our Sunset River Cruise with the Young Professionals of the World Affairs Council of Jacksonville. Not only was it a true pleasure to work with you, but your staff and the food were amazing. We have received wonderful feedback about the night, including many compliments on the the quality and amount of food provided. Thank you so much for your partnership. I look forward to working together again in the future.
Sincerely,
Leah Huber
Director of Membership Services
World Affairs Council of Jacksonville
Testimonial from Alexis Carter & Nicholas Molinaro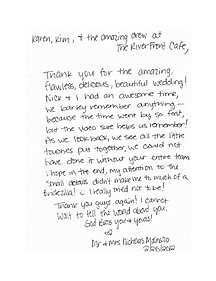 Alexis Carter & Nicholas Molinaro Wedding
Karen, Kim, & the amazing crew at The RiverFront Cafe,
Thank you for the amazing, flawless, delicious, beautiful, wedding! Nick & I had an awesome time, we barely remember anything — because the time went by so fast, but the video sure helps us remember! As we look back, we see all the little touches put together, we could not have done it without your entire team. I hope in the end, my attention to detail didn't make me too much of a bridezilla! 🙂 I really tried not to be!
Thank you guys again! I cannot wait to tell the world about you.
God bless you & yours,
Mr. & Mrs. Nicholas Molinaro
Testimonial from Nonprofit Center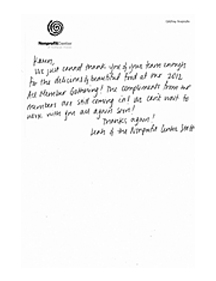 Nonprofit Center Reception
Karen,
We just cannot thank you & your team enough for the delicious & beautiful food at our 2012 All Member Gathering! The compliments from our members are still coming in! We can't wait to work with you all again soon!
Thanks again!
Leah & the Nonprofit Center Staff
Testimonial from Todd & Jen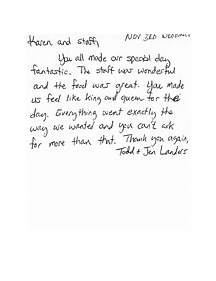 Landers Wedding
Karen and Staff,
You all made our special day fantastic. The staff was wonderful and the food was great. You us feel like king and queen for the day. Everything went exactly the way we wanted and you can't ask for more than that.
Thank you again,
Todd & Jen Landers
Testimonial from Matt & Elizabeth Noldan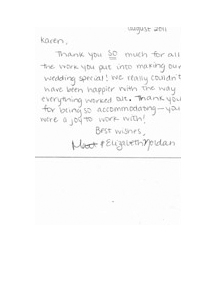 Laboone-Noldan Wedding
Karen,
Thank you SO much for all the work you put into making our wedding special! We really couldn't have been happier with the way everything worked out. Thank you for being so accommodating — you were a joy to work with!
Best wishes,
Matt & Elizabeth Noldan
Testimonial from Nathan, Woody & Ruby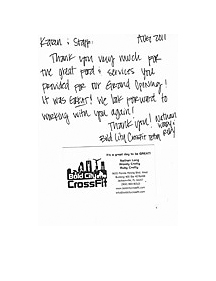 Terrie Brady Event
Karen & Staff,
Thank you very much for the great food & services you provided for our Grand Opening! It was GREAT! We look forward to working with you again!
Thank you!
Nathan, Woody & Ruby
Bold City Crossfit Team
Testimonial from Kathy & Lary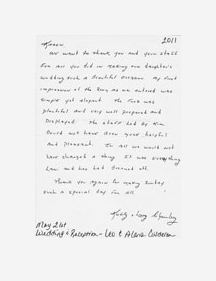 The Leo & Alana Calderon Wedding & Reception
Karen,
We want to thank you and your staff for all you did in making our daughter's wedding such a beautiful occasion. My first impression of the room as we entered was simple yet elegant. The food was plentiful and very well prepared and displayed. The staff led by Kim could not have been more helpful and pleasant. In all we would not have changed a thing. It was everything Alana and Leo had dreamed of.
Thank you again for making Sunday such a special day for all.
Kathy & Lary
Testimonial from Linda Wiley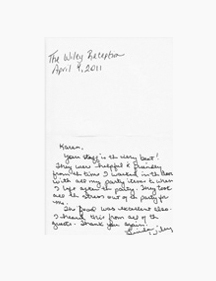 The Wiley Reception
Karen,
Your Staff is the very best! They were helpful & friendly from the time I walked in the door with all my party items to when i left after the party. They took all the stress out of the party for me.
The food was excellent also. I heard this from all of the guests. Thank you again.
Linda Wiley
Testimonial from Dorothy Dorion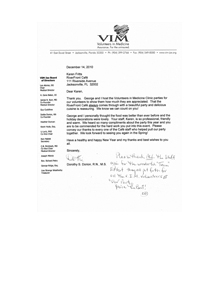 Dear Karen,
Thank you. George and I host the Volunteers in Medicine Clinic parties for our volunteers to show them how much they are appreciated. That the RiverFront Café always comes through with a beautiful party and delicious cuisine is reassuring. We know we can count on you!
George and I personally thought the food was better that ever before and the holiday decorations were lovely. Your staff, Karen, is so professional, friendly and warm. We Heard so many lovely compliments about the party this year and you are to be commended for the hard work you put into the event. Please convey our thanks to every one of the Café staff who helped pull our party together. We look forward to seeing you again in the spring!
Have a healthy and happy New Year and my thanks and best wishes to you all.
Sincerely,
Dorothy S. Dorion, R.N., M.S.
P.S
Please thank all the staff again for the wonderful "Team" effort they all put forth for all the V.I.M volunteers at "Our" party.
You're the best!
Testimonial from Bob Croft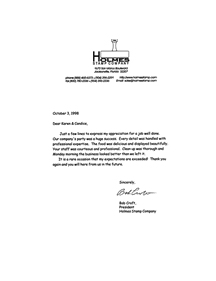 The Wiley Reception
Just a few lines to express my appreciation for a job well done. Our company's party was a huge success. Every detail was handled with professional expertise. The food was delicious and displayed beautifully. Your staff was courteous and professional. Clean up was thorough and Monday morning The business looked better than we left it.
It is a rare occasion that my expectations are exceeded! Thank you again and you will here from us in the future.
Sincerely,
Bob Croft,
President
Holmes Stamp Company